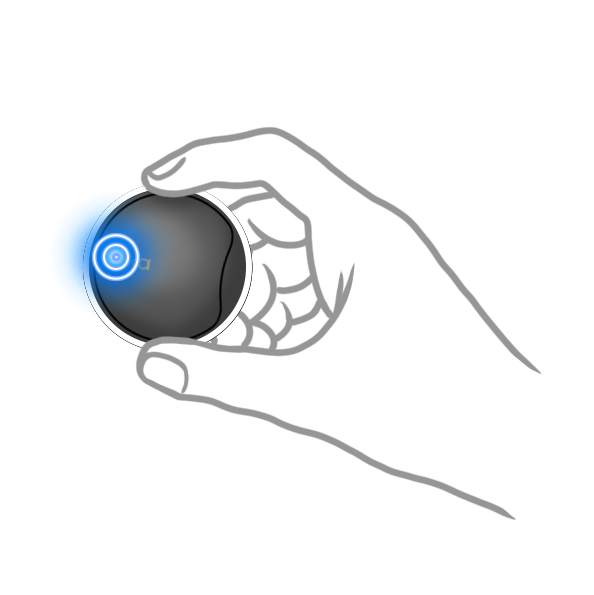 The front of the Oxa sensor has a small LED that displays different statuses by changing its color or illumination pattern. The different LED patterns indicate:
Sensor's connection to the Oxa Life app

Battery charge level

Awake / asleep

Error
The LED fades off when Oxa is used in sleep monitoring mode.
Sensor Action

LED

Sensor state

Battery

Connection to Oxa Life app

–

Off

Off or in sleep mode

–

–

Connect to charger

Red - solid

Charging

Charging

Oxa cannot connect while charging.

Green - solid

Fully charged

Fully charged

Shake the sensor

Blue - flashing

Awake

> 20% charged

Ready to connect to the Oxa Life app

Red - flashing continuously

Awake

Low (< 20% ) - needs to be charged

Connect to app

Blue - solid

Awake

> 20% charged

Established Bluetooth connection to the Oxa Life app

Blue - solid, interrupted by Red pulses

Awake

Low (< 20% ) - needs to be charged

Red - flashes several times, then pauses

Error. Contact Oxa support.

Count the number of red flashes, if possible.
Charging: The Oxa sensor battery is rechargeable and lasts for about 30 hours before needing to be recharged. Recharging the Oxa sensor takes about 2.5 hours.

Shake to wake.

If the sensor does not connect to the app via Bluetooth within 2 minutes, the LED will turn off. After 10 minutes, the sensor will automatically go to sleep again and need to be shaken or moved to be discoverable for a Bluetooth connection.

If the device does not show as being connected on your app, it is most likely connected to another phone. Disconnect the device from the other phone and try pairing again.
If your sensor status is not clear, connect the sensor to a charger. The sensor will reboot. If you continue to experience issues, check the troubleshooting guide to return your Oxa sensor to normal operation.